As the year comes to a close, here's a few things I found exemplary. I'll be doing best films and best music of 2013 lists soon. In no particular order:
1) Heck by Zander Cannon.
In what was a strong year for comics (Paul Pope's Battling Boy, Matt Fraction's Sex Criminals, Sean Murphy's Punk Rock Jesus), I found this simply-drawn indie to be the most captivating. But don't let the simplicity of the art fool you, Heck is a metaphysical doozy, telling the story of a broken man who finds a portal to Hell in the basement of his deceased father's home. He turns the portal into an odd business, of extracting secrets from dead friends and family members of paying clients. The story has a gallows humor and is incredibly emotional, as any journey through Hell should be (I should know). A quick and inventive read, and one that reveals as much about us as it does its characters. Wonderful.
2) Belvoir Elderflower Soda (Pressé)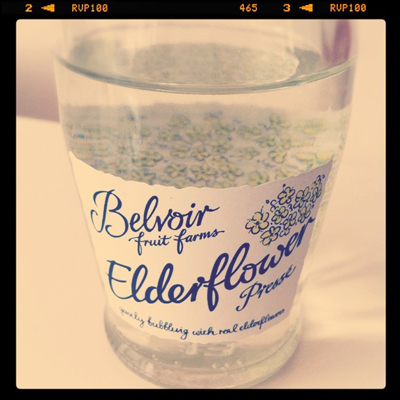 My wife and I had this stuff at a Michelin-starred restaurant called Grace here in Chicago, and our life hasn't been the same since. Screw Mexican Coke, this stuff is the shit, and it goes with just about anything. Not an easy find but in Chicago it can be found at Joey's Sodas and Snacks, and I'm pretty sure Joey ships as well. The fuck if I know what an elderflower tastes like, but in soda form it's pretty amazing, lightly honeyed and citrusy, with a mineral undertone. Pretty much unlike anything you've ever tasted.
3) Yoji Yamamoto Y-3 Sprint Classic Sneakers.
When I'm on set I never sit. Ever. There's always a director's chair in the budget and I should save the production a few hundred bucks by telling them it'll never get used. Invariably someone else gets to sit in my chair, which is fine by me. But I'm on my feet for 20-hours at a shot, and naturally my feet take the brunt of it, and the need for comfortable shoes is paramount in a director's line of work.
I'm no slave to fashion but I wouldn't be caught dead in SAS or Crocs or any form of orthopedic shoes. Fuck that. I'm a director of a film, not a senior home. By chance I came across a store that was having a clearance sale and they had one display pair of some cool looking Adidas Y-3 kicks for sale. They happened to be my size, and I tried them on. Holy shit. These have to be the most comfortable shoes I'd ever worn, and a later study revealed that GQ magazine had declared these shoes to be the most comfortable pair they wore all year. Damn. Not inexpensive, but if you're on your feet all day, it's worth every fucking penny. I bought two pairs. And while it's subjective, I think they look dope.
4) Daniel Danger.
One of my hobbies is to collect art. Not in the Picasso / Modigliani / Francis Bacon sense (I wish!), but I love collecting prints and original artwork (if I can) of young artists who are on the fringe of blowing up. Many moons ago I started collecting a then-unknown artist named David Choe, who later painted the offices of Facebook and became a multimillionaire and contemporary art icon. I feel Daniel Danger, who is a household name in the world of concert posters, is one of those artists who will make the leap to fine art in due time. I've spent the year combing stores and art fairs looking for his work, and found two incredible pieces that are now being proudly hung in my home. Danger's detailed work and haunting themes are far from literal, and they exist in some kind of Edward Gorey-esque pre-apocalyptic world, a zone that got like just a third of a nuke. Weird, unsettling, and heart-breakingly gorgeous. Find his work, frame it in archive quality, and keep it for future generations. A monumental talent.
5)Tron: Uprising
I wrote extensively about Tron: Uprising in a post earlier this year. It's one of the best shows on television, and the best science fiction in the business right now. Naturally, it looks like it's cancelled. I don't understand viewers sometimes.
6) Knowshon Moreno.
I'm a die-hard Denver Broncos fan, and this year has been one hell of a season. Peyton Manning's a shoo-in for MVP and he's already won the Sportsman of the Year. Demaryius Thomas, Eric Decker and Julius Thomas will receive the notoriety they deserve, but to me the unsung hero of the Broncos' dream season is running back Knowshon Moreno. A first round draft pick under Josh McDaniels, Moreno was on his way to being just another first round bust, but this year he's rebounded with a competitive fire that I've yet to see in any player in the NFL. This guy plays hard, and then some. He consistently grinds yard after tough yard, blocks like a motherfucker (see gif above) and raises the intensity and focus of all around him. While his running style is nothing to write home about, it's a joy to watch him play, to see him enjoy this beautiful game which has come under such scrutiny, and to revel in being the part of something greater. He's also an example of perseverance, of responding to critics and adversity and working your way to the top. Tip of the hat to you, Knowshon, you are my MVP for the season.
7) Pizza Dog.
Since Marvel is scraping the bottom of their barrel (Ant-Man? Guardians of the Galaxy? Huh?), maybe it's time they give a feature film to one of the most memorable characters in the Marvel Universe, PIZZA DOG. His name is Lucky and he's a one-eyed dog who eats pizza. And he's awesome.
Pizza Dog is featured in Matt Fraction and David Aja's brilliant, fun and sexy Hawkeye comic series, and was given his own issue, an iconographic and largely silent telling of Pizza Dog's exploits as a canine crime fighter. It's a distinct homage to both Preminger and Chris Ware, and it's the best single comic book issue that I've read in the past ten years. I'm serious as a heart attack, it's that amazing. It also establishes Pizza Dog as a fully formed character, worthy of his own adventures. I'd love to make a Pizza Dog movie (R-rated, of course). Pizza Dog also has his own amazing twitter, which is probably the best Twitter feed since the dearly-departed HOBO DARKSEID. I want a Pizza Dog movie. Read the issue and you'll want a Pizza Dog movie too. It will be an instant cult classic. Let's make it happen.
8) Tomb Raider
I'm incredibly behind on my gaming and am slowly catching up. I've had Tomb Raider sitting on my shelf for over six months, and I finally got around to playing it. Wow. I've always been a fan of the franchise since way back when but this game takes "cinematic experience" to a whole new level. It's intense, brutal, and has an actual story. Side characters remain classically inept as with most video games, but this is and has always been Lara Croft's adventure. We're given a new origin story and join Lara as a young grad student, and discover how she learned the skills to become the vaunted Tomb Raider. Lara takes a monumental and cringe-worthy amount of punishment in this game, and while she's still an amazing athlete of world record proportion, the game progressively shows the toll of damage on her, both physically and emotionally. It's quite remarkable, and an amazing experience throughout. The puzzles aren't quite to snuff as in the classic TR games, but what it lacks in puzzles it makes up in atmospherics and character. A worthy relaunch of a much beloved character.
9) Kai Kaphrao Kai Dao aka 'Stir-Fried Chicken with Hot Basil.'
My wife and I cook all of our food from scratch. We eat out maybe once or twice a week, but other than that we get all of our produce from an organic farm share and we make our food at home. It's rewarding in that we know and control exactly what goes into our bodies, but the downside is that it can be exhausting. After a long day, many times the last thing I want to do is cook.
Asian food is useful in this regard, as many dishes are quick stir-frys that can be done in less than an hour. I found this recipe for an amazing Thai dish from the famed Pok-Pok restaurant in Portland, OR from its eponymous cookbook. This dish has become one of my all-time favorites, and I make it all the time. We make a vegetarian version of it with tofu as well. You can download the recipe from the Amazon page of the book by clicking here. The book is ace as well, but this is the fastest, easiest and knockout amazing tasting dish I've had from it. Eat well, eat healthy!
10) Pussy Riot.
I've long had a complaint that this generation has had a distinct lack of artistic rage against all that has happened to them. I had Public Enemy and Nirvana as a kid coming off Reagan and Thatcher, and coming off George W. Bush the only thing remotely resembling any kind of legitimate, powerful rage from this current generation is Anonymous. (Which is huge).
Which is why I make the case that Russia's agit-punk band Pussy Riot should be be anointed the bona-fide voice of a generation, a heart-on-their-sleeve band of troublemakers who are not afraid of whatever punishment Putin and the Russian government can dole out. Their anger is legit, their fearlessness is inspiring, and with today's release of two of their members from prison as an act of public relations solidarity for the upcoming Winter Olympics in Sochi, you know Pussy Riot is angrier than ever. These are artists we can all rally behind, create anthems with, and stand arm-in-arm with. We are all Pussy Riot. In a year that saw us lose Nelson Mandela, we are in dire need of heroes and leaders of conviction and truth, and Pussy Riot are my choice.