And here's the final five! Click here for Part One of the list.
5) Moonrise Kingdom, dir. Wes Anderson, USA.
I've always had one hangup with Wes Anderson's films - all of which I adore - and that's that they often felt overly crafted, that they were so meticulously designed that they felt more like beautiful dioramas that nary allowed for the little imperfections that make up our normal lives. That small quip was alleviated when I saw Anderson's Moonrise Kingdom, which shed its rigid formality without losing Anderson's trademark craftsmanship. In a story that is essentially if Margo Tenenbaum as a child fell in love with a younger version of Max Fischer, Anderson ascends artifice and delivers a love letter to first love. It reminds me of an old Irish proverb, that a man has three loves in his life: his sweetheart, whom he loves the most, his wife, whom he loves the best, and his mother, whom he loves the longest. Moonrise Kindgom is all of those in one, and it's beautifully rendered, acted, and delivers us a true star in the making in actress Kara Hayward.
4) Brooklyn Castle, dir. Katie Dellamaggiore, USA.
From a kingdom to a castle, this is one of those documentaries - like Lee Hirch's Bully - that everyone cannot afford to miss. Luckily this film is rated PG (unlike Bully, which is inexplicably rated R, fuck you MPAA) - so kids who need to see this film will be able to.
During the 2012 presidential elections, Mitt Romney made an inflammatory statement, caught on camera, that in any normal given circumstance should have killed any credibility and standing that he had to be the next American president:
"There are 47 percent of the people who will vote for the president no matter what … who are dependent upon government, who believe that they are victims. … These are people who pay no income tax. … and so my job is not to worry about those people. I'll never convince them that they should take personal responsibility and care for their lives."
Romney's bigoted, numbskull comments should have completely discredited him and caused a public uproar, and yet, strangely enough, it didn't. He went on to lose but by a smaller margin than any of us could predict. It highlights a pervading thought process in America, that there are the folks in this country who are just too lazy and too dumb to even save themselves, that they are the burden of the smart, hard working WASPs of America's heartland and industry. The election results proved it - America, by giving Romney 47.2% of the popular vote, is willing to buy into that narrative.
Which is why we need films like Brooklyn Castle to be seen by as many people as possible, from all walks of life and on both sides of the aisle. The film follows the lives of five students from Brooklyn I.S. 318, a junior high school that is considered a below-the-poverty-line public school. Romnian logic would instantly label these kids as unworthy, too stupid, too lazy to be counted, and yet the kids of this school have managed to win more championships than any other school in the United States in a very peculiar sport. The uninformed would assume it's something 'street' like basketball, but in actuality it is chess, the most intellectually demanding and challenging game in the world. This despite persistent budget cuts in after-school programs, cuts that require students, staff and the entire community to make sacrifices that no suburban school would be asked to undertake.
What a remarkable film, showing the passion of kids to pursue what they enjoy despite a nation and government that continually tells them that they are not worthy or even capable. Sure there are kids that simply don't care and never achieve, but the real crime is to give up on them regardless of disposition, income or race. Every child will not become a chess grandmaster, but each should be afforded the opportunity to try, to explore options, and to find support in the field that they take a shining to. It's the very minimum that should be awarded to each child everywhere.
3) DREDD, dir. Pete Travis, United Kingdom.
I've already lauded DREDD some time ago, you can read it here. I'm still campaigning for a Best Supporting Actress nomination for Olivia Thirlby in the film, she's just that damn good. Oscar consideration should also go to DoP Anthony Dod Mantle, as he delivered the most gorgeously shot action film in recent memory. It wasn't however, the most visually beautiful film of 2012, an honor that belongs to the next film on this list…
2) Leviathan, dir. Lucien Castaing-Taylor and Véréna Paravel, USA.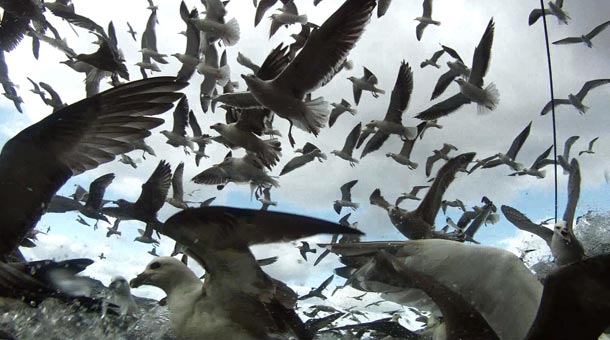 A couple of years ago I wrote that the indie documentary Sweetgrass, a relatively plotless film that was about Montana sheepherders, should be given the Oscar for best film of the year. That wasn't my attempt to shock people with indie arthouse cred, that was my honest opinion - it was the very best, most affecting film I'd seen that year, and if the Academy really wants to stand by the words of "Best Picture," then dammit that was the best picture of the year.
Imagine then my anticipation for Leviathan, Lucien Castaing-Taylor's follow up to Sweetgrass. Along with co-director Véréna Paravel, Castaing-Taylor tells the tales of the fishing vessels that head out into the turbulent and unforgiving seas in order to deliver that tuna sandwich to our local grocer. Leviathan, like Sweetgrass before it, largely defies narrative and yet stitches together a very cohesive and gripping story of life and death, of the nature of work and, like the nautical muse of Moby Dick, the very nature of obsession. The film speaks on a visual level that transcends conventional filmmaking as we know it, and like Leos Carax' Holy Motors, it relies upon its audience to connect the dots by digging into our subconscious. This is a raging, dense and powerful film, and as I had the privelege of seeing it at a film festival, I do so hope that it gets a wider release (to see it on the big screen is unforgettable, but we will all have to settle for home delivery) so that people may experience life at its most engaging, the world as a blast furnace of activity, and the elements that make the alchemy of our existence. The clip below is a mere fraction of this film's visual power. Simply brilliant.
And last but not least, my pick for best film of the year goes to…(drum roll please)…
1) Wuthering Heights, dir. Andrea Arnold, United Kingdom.
First things first, I read Emily Brontë's brooding novel in high school and it gripped me at a time when few books were able to grab a hold of my fleeting attention span. I loved Wuthering Heights as a document of human brutality, and it ranks right up there with Edith Wharton's Age of Innocence as one of the most violent stories I've ever experienced. Violence not in the physical sense, but in terms of psychological anguish and terror, few stories have been able to match up.
When I heard that Andrea Arnold, the reigning champion of human anguish (and I say that in the most admirable fashion possible) was going to adapt Brontë, and that she had cast a black boy in the tortured role of Heathcliff, well it instantly became my most anticipated film of the year. And it did not disappoint one bit. Arnold, who is typically known for her gritty urban tales of women fighting to identify themselves in an unforgiving world, elevates her craft by imbuing Brontë's tale of forbidden love in an absolute shroud of fog and dread. The film, shot in a 1.33:1 aspect ratio -unusual for feature films - feels incredibly claustrophobic and yet open at the same time, a feeling that replicates the anguish and liberation of true love. Arnold delivers on two blistering performances from newcomers James Howson and Kaya Scodelario, and the result is the most gut wrenching romance I've seen since Wong Kar-Wai's In the Mood for Love. Unlike most period films, there is no swooning, no lip biting or heaving bosoms - Arnold strips the story down to its raw essence, pasting it with mud and grime, and amplifies the rebellion of youth with pugnacious flair.
The film is not for everyone - indeed critical reception of the movie has been divided - but the final judgement on the effectiveness of the film is if it made its viewer feel what the characters felt, and not doing it through overtly manipulative means. I felt Heathcliff and Cathy's anguish, I felt those pains of love and longing, of not being able to have what the heart desires most. For me, the film was immensely affecting, to the point where it still refuses to let go. It speaks of truth to me while simultaneously existing in a dream state, which is the world in where most burning regrets and forbidden desires lay in all our minds. It is a special, unique film, one that is worthy of our time and patience, and is worthy of being called the very best film of the year.
A final note. With Wuthering Heights, Leviathan, Zero Dark Thirty and Brooklyn Castle, it's been an absolute banner year for women directors. I love that these films are not stereotypical 'women in peril' or derivative romantic comedies, that they are by women observing the world they live in. In the year that saw the passing of Nora Ephron, women in film have made absolutely amazing strides and both the industry and audiences are all the better for it.
Runners-up: Once Upon a Time in Anatolia, Bully, Argo, End of Watch, Beyond the Black Rainbow, Jiro Dreams of Sushi, The Kid With a Bike, Miss Lovely, The Raid: Redemption, The Master.
Now, I wanna know your picks. What was your favorite film of the year?