It's been a on-and-off year of film watching for me. Truth be told, we've been choosing our films very wisely simply due to the exorbitant cost of going to the movies these days. Not that I can't afford it, but more that I feel like I haven't been getting my value for money at the big screen. So more and more, my wife and I are doing tons of research on a film before we pony up the dough. Unfortunately, dwindling are the days of just seeing a movie on a whim, and most of the movies on this list were seen on the festival circuit. It's a pretty sad state of affairs.
That said, I did see some pretty outstanding films in what can be considered an overall bold and unconventional year of movies. Here's my picks 10 through 6 of the ten best movies of 2012, in descending order, and of course humbly omitting my own films which came out this year, Lilith and Patang (The Kite), both of which are really, really good and you should totally go see. :) (You can order the Lilith DVD and direct download here. Thanks!)
NOTE: As of this writing, I have not seen either 'Django Unchained' or 'Zero Dark Thirty,' which, given what I have seen of the film and my mad respect for Kathryn Bigelow, will definitely vault itself into the top of my list. Of course, I could always be wrong.
10) Persistence of Vision, dir. Kevin Schreck, Canada.
A festival gem that's in current release right now, Persistence of Vision is an incredible documentary about Richard Williams, a gifted animator who set out to make the greatest animated film ever made. After he and a small army of dedicated animators spent nearly a quarter of a century meticulously composing frame after frame, the film remains unfinished, the victim of changing times, cinematic bureaucracy and the cruelty of age itself. Eye opening and Williams' work is awe inspiring.
9) Looper, dir. Rian Johnson, USA.
One thing that became very apparent this year was that the science fiction genre saw its life resuscitated. Our interest in space, time and the threats of technology has blissfully seen a resurgence, no doubt sparked by recent technological breakthroughs such as the Higgs-Boson, the Mars Curiosity rover, and of course the financial success of Avatar, which, for better or worse, redefined how we watch and experience cinema. Filmmakers afforded the ability and financial resources to make science fiction can go one of two ways. The first is the way of films such as Len Wiseman's Total Recall, which has the immaculate production design and technological elements of the greatest science fiction has to offer, but yet remains a conventional (and tediously boring) storyline that has only germs of technological threats and questions. But I have to admit that Kate Beckinsale kicked some serious ass in that film.
The other avenue a filmmaker can take is to use technology as a means to ask deeper questions of our existence and meaning, and this is the avenue that we see in the very greatest films of the science fiction genre, films like Blade Runner, Primer, Never Let Me Go, Moon and 2001: A Space Odyssey. These films took modest budgets and used the conundrums of science to create immense depth and layers of narrative, and made them feel absolutely huge and massive in scope. We find this avenue taken by Rian Johnson in his smart, very modestly budgeted science fiction time travel film Looper.
Brilliantly acted, scripted and photographed, Looper is also a moral journey that makes us question what we consider valuable and worthwhile - physical existence or the legacy - the impression - we leave behind. The film's production design and visual effects serve the plot instead of propelling it, and it is the moral decisions that take precedence. It's old school filmmaking - propelled into the future - at its very best.
8) A Royal Affair, dir. Nikolaj Arcel, Denmark.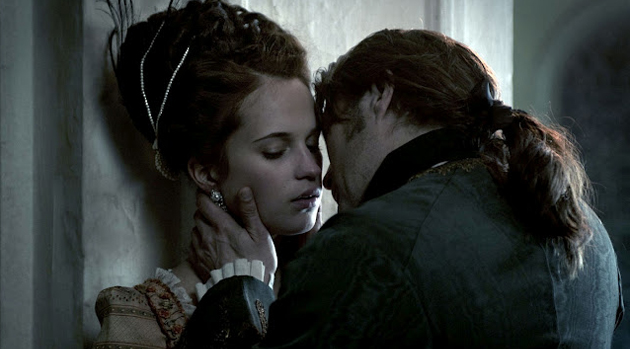 If there's a genre I love as much as science fiction, horror and westerns, it's period pieces. But not just any old period piece, I like period pieces that are loaded with sex. Lots of it. Besides the arousing nature of undoing all complications of a young woman's décolletage to reveal raw, naked passions underneath, the fact that sex - or forbidden love - is the driver of so much personal and political revolution in history is what makes it so intriguing. I'm not the only one that thinks this way. Watch anything on cable television, from Mad Men to Boardwalk Empire to The Borgias and you'll see what I'm talking about.
Nikolaj Arcel's A Royal Affair is a throwback to a time when feature films reveled in the power of sex as a political tool, from Stephen Frears' Dangerous Liaisons to Stanley Kubrick's Barry Lyndon to one of my personal all-time favorites, Philip Haas' disturbingly erotic Angels and Insects. A Royal Affair pays tribute to this cinematic legacy by not only being sumptuously photographed, costumed and designed, but also by using sex as an agent of change and upheaval. Centered around the true story of a young queen (Alicia Vikander, amazing) turbulently married off to an insane king. She ultimately finds solace in the arms of her physician (Mads Mikkelsen, reaffirming his position as one of our greatest living actors). What ensues is a chess match of sex, deception and manipulation. Exquisite on every level and unrelentingly dark, the film was just nominated for an Oscar for Best Foreign Film and is my dark horse to win it. It's that good.
7) Beasts of the Southern Wild, dir. Benh Zeitlin, USA.
Metaphors are so heavy handed these days, with studio executives worried that things will go over an audience's head, so they force filmmakers to make things so obvious that it borders on insulting. So thank god for independent cinema, and Benh Zeitlin's Beasts of the Southern Wild is about as indie as they can possibly get.
Unrestricted by the forces of commercial cinema, Zeitlin and his team of dedicated filmmakers were free to make true metaphorical cinema, one filled with the wonderment of symbols, dreams and aspirations in an unforgiving world. Set in a Louisiana bayou simply called The Bathtub, the film is the story of a great storm not unlike a great storm the region has already witnessed before. What ensues is a post-apocalyptic (in the loosest sense of the word) tale of survival and belief, all rooted in a deeper love and respect. The film makes the absolute most of a limited budget, using natural landscapes and existing structures as beautiful and striking narrative elements. The visual effects are gorgeous and Oscar worthy, which is a huge thing considering they were largely DIY and done on a pittance. This is one of the very best American independent films to come out in recent memory, a graduation from the 'three mumbling rich white kids in a Brooklyn apartment with a DSLR' to filmmaking with visual and narrative polish. A move in the right direction, and simply an amazing achievement.
6) Holy Motors, dir. Leos Carax, France.
The fuck if I know what this movie is about, but that's not important. What is important is that this is cinema at its purest, a collection of train-of-thought experiences that are linked together only by the fact that they are simply captured. Much like recollecting a dream, or reading Finnegan's Wake. The film marks the power of the edit, the joining of disparate parts that essentially forces the viewer to create their own narrative, and that is something that hasn't been effectively done since Fellini's '8 1/2.' Yes, I said Fellini, Carax is simply that good here. The film is also decidedly French, pulling no punches in its Gallic perversity, bizarre humor and obtuse love of cheesy American pop culture. Words do the film little justice, you'll just have to see it and experience it for yourself. A refreshing slap in the face by a French leprechaun sexbot cyborg. Or something.
To be continued…
210 notes
theladygoogle said:

whyyy did you pin this, i read through it all the first time and now i have to scroll through so much text IT'S BECOME VISCERALLY UPSETTING I AM A VERY ANXIOUS PERSON